Lookie at me as a baby! As my old bio thing over there -----------> used to say when that picture was my avatar, I feel the same way today as I did when that picture was taken.
Anyway, if you click on the humongous image, you be redirected via the magick of the interwebs to my long-neglected CafePress shop. There you will find some of the photos you've seen here (or not) plastered on fun stuff like cards and mugs and even the occasional tee.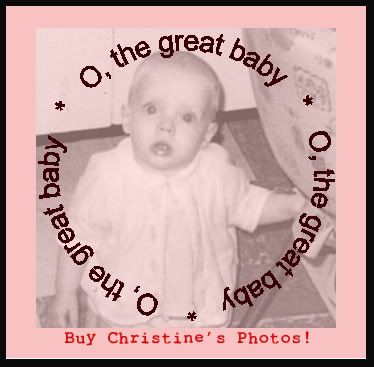 Check back there often (
do I need to remind you who's boss
?)(how many times can I bring that up and not be annoying? Oh, I've already crossed that bridge? Tough! Refer to last link) as I'll be adding stuff regularly. At least, that's my plan right now. I'll keep you posted (Get it? Posted? Because this is a blog post?).
~~~~~~~~~~~~~~~~~~~~~~~~~~~~~~~~~~~
In other news, my daughter is hooked on the notion of making me a
Special Snack
...she begs me to let her make on daily. Today's concoction was especially enticing. It composed of a salad, a drink, and a side of bread with cream cheese and butter. The drink was freshly squeezed orange juice (I cut the orange for her, she squeezed the orange halves...that was my only participation; otherwise I wasn't allowed to look), a handful of cheerios, and some carrot sticks. Yes, I sampled it.
Ahhhh...but the salad. That was the show stopper. My little sweetie knows I love spinach salads, so she started with that as the foundation. She threw in some cheerios, because who doesn't LOVE CHEERIOS, plus as she'd used that in my drink I'm sure she wanted to coordinate the flavors. Similarly, the salad had some orange juice and carrot sticks. Actually, now that I think of it, perhaps it was a stew? Or soup? Regardless, the dish also had some cream cheese, mustard, and apple slices left over from an earlier snack of hers. Delish (No, I only pretended to eat that)! I'm thinking I should send the recipe to
Pioneer Woman
so she can use it in one of her recipe posts. It's all about supporting my fellow bloggers.
P.S.: My daughter just took my drink and is adding ketchup to my drink, not that I peeked.