Way back in 1998 I was laying in bed, my newborn son in his bassinet within arm's reach. I put my hand lightly on his chest, feeling its reassuring rise and fall.
As if overwhelmed with love for my little boy, my heart starting beating faster and faster in the still of the night. It sounded like a train in my ears, or a marching band. It thumped against my chest wall and started to steal my ability to breath normally.
While my husband slept oblivious next to me, I struggled for a deep breath, tried to reassure myself that this was probably a normal experience to have in the days right after giving birth. I was probably dehydrated. Over-tired. Adjusting to the crazy hormonal shifts.
This feeling, however, would surface whenever it damned well pleased for quite some time. Three and a half years, to be exact.
There were some dark times in those years, but for the most part the anxiety was manageable. I knew the feeling would go away in a day or two; I just had to suffer through those hours. Eventually as the months progressed the "episodes" grew further and further apart, until one day I realized that it had been weeks since the last one.
They were gone.
When I was pregnant with my daughter, I promised my husband that if I had another post-
partum
experience like that, I'd give up the stoicism and take some medication. I didn't want to live like that again, and I didn't want to put my family through it.
Happily, the second time around it wasn't as bad. Or, on second thought, maybe not happily. I lived with a low-grade anxiety that I kept pretty well hidden most of the time, but it would come out full-force when I was faced with an even mildly stressful situation.
When my daughter was just over a year old, I was faced with what turned out to be a big fat NOTHING, but at the time was a wee bit of a health scare for me. I crumpled. I stopped returning phone calls, hid in my home for weeks waiting for tests and biopsy results. I told no-one about it, just put everything on hold as much as I could.
When that was all over, I marched into my doctor's office and said, "It's time. Gimme some Zoloft." He did, and it worked miraculously. The anxiety that had taken over was gone.
*Poof*
At the time, I was training for a half marathon. I had less than a month to go, and was really
ramping
up my running.
Yet...as I watched my friends with whom I was training dropping pounds like crazy because of our running schedule, I started
gaining weight
.
I remember the day of the race, which went from
Napa
to
Sonoma
, feeling my belly jiggle a bit as I ran. I'd never had that before. Not ever. I had gained five pounds since starting Zoloft.
Whatever, it's worth it not to feel like that.
I thought to myself.
Five pounds is a small price to pay to feel normal.
I had no idea what was in store for me.
The small stomach jiggle grew and grew. I tucked away my size 4's and bought 6's.
I can deal with a size 6 if it means I'm not dealing with anxiety.
The flab on my tummy started expanding northward. My rib cage became covered by a small layer of fat, then a thicker one.
Out with the 6's, in with the 8's.
This is getting tough, but still...worth it.
My hips started widening. My wedding rings got tight. Even bracelets didn't fit the same. AND MY SHOES.
Bought some size 10's.
In case you're wondering, I was still working out consistently. I enjoy exercise and don't feel right if I skip more than a day. In fact, until Zoloft I was one of those annoying people who
occasionally
had to diet to GAIN weight (okay, not so much after kids, but I didn't have one bit of problem losing weight EVER. Until
Zoly
).
I started pretty much living in yoga pants.
And I bought a size 12.
My weight reached the place where it was when I gave birth to each of my kids. I looked in the mirror and the bone structure that once allowed me to model (not a lot, mind you, but a bit) was gone.
Who is that fat woman in the mirror? Oh, right,
me
.
Me?
Me.
In three years I've gained thirty pounds. That's an increase of about twenty-five percent. Good times!
I'm going to wean myself off of Zoloft. It actually kind of started at
BlogHer
because I forgot to take my daily dose twice. I figured I'd run with it...
I'm going to document it for you here. The good, the bad, the whatever.
And maybe, just maybe, if I make it to
BlogHer
next year I won't hide from the cameras. Or look frantic in the photos that are taken because I dread seeing how fat my face has become.
Because
this
is me (days before starting Zoloft):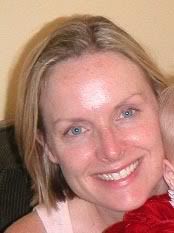 Not
this
(at BlogHer...thanks
VDog
for letting me steal the photo!)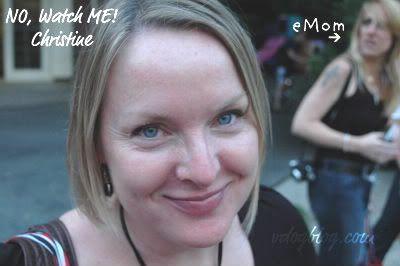 Maybe I shouldn't be so vain. But, whatever, I am.
(I wonder when I started parting my hair on the opposite side? THAT has nothing to do with Zoloft, I'm pretty sure.)