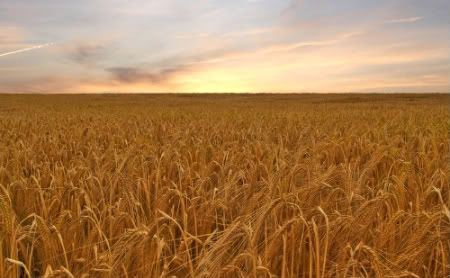 I am having a very hard time with breakfast these days.
First off, I pretty much hate sweet foods (before you start chucking things at your monitor, rest assured...I more than make up for the calorie deficit that occurs because I can easily pass up a chocolate mousse by eating FAR more than my fair share of pizza).
For whatever reason, breakfast foods seem to be loaded with sweetness. From cereals to pancakes to french toast to...well, you get it.
Ah! But Christine! How about the savory delights of quiche? And toast dripping with butter? Or a bagel slathered in cream cheese?
Sigh, yes. That is what I prefer for breaking
my
fast in the morning after a cup or three of java (the first of which my husband brings to me while I am still in bed)(~ducking again~).
Sadly, I have gone wheat-free.
But why, Christine? Why? Are you un-American? Are you against those golden waves of grain?
Wow. That's stretching it a bit. Let's get back on topic, 'kay? My eliminating wheat stems from an odd confluence of events, and quite honestly it's not a very interesting story. Suffice it to say that I realized that it
might
be a good idea to eliminate wheat.
I tried it.
It
was
good.
So while this not eating wheat is making all meals tough, breakfast is the hardest hit. I feel like I'm on a no-carb diet every morning...my go-to meal is a scrambled egg conglomeration of whatever we have on hand. It usually consists of eggs (derrrr), cheese, and perhaps spinach or red bell peppers. Deeeelish!
But not so delish day after day after day after day after day after day after day after day after day after day after day after day after FREAKING day...
The other snag is that I am super lazy in the mornings. I have never woken up fast, nor easily (see above, how hubby has to bribe me to wake up with coffee delivered bedside). What this means is, if my husband isn't making me some egg concoction, in all likelihood I'll just scrape together something, like rye crackers and cream cheese. Or a pre-hardboiled egg. Or a handful of lunch meat (EWWW!).
So, I beg you...help me. Do you have any suggestions as to what I can eat for breakfast? Something savory, not sweet. Easy to prepare in advance that is also wheat free?
If you are a lurker and have an idea, please de-lurke. I need some serious help here in the Non-Sweet, Non-Wheat Recipes for Breakfast Department.