So we bought gas today. No big whoop, right?
Yes, we paid just under 38 cents per gallon.
Seriously.
Check it out...we filled our minivan (I was running on fumes) for under six bucks: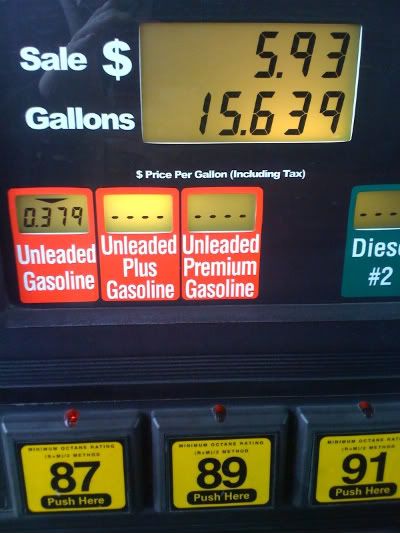 It seems that our grocery store (Safeway) has some weird points thing...you spend money and accrue points. We've been accumulating points for ages. I had no idea.
The other week my husband was lucky enough to have a cashier who spent a few moments to explain just how valuable those points were. (*Warning, boring explanation ahead.) They are running a promotion...every "point" accumulated amounts to ten cents off per gallon of gas. We had thirteen points. That's $1.30 off the price of gas...so instead of 1.68 per gallon (which is already cRaZy cheap), we spent $0.379. Ummm...wow.
So anyway, when someone tells you it is too good to be true, don't believe them. It just might be
that
good. Or better.